Give

Item Donations

2023 Refugee Back to School Kit
Help a refugee student on their way back to school.

Donate these items in a backpack to help a refugee student

Deliver to the Sharehouse, Mondays or Wednesdays 10-2.

3134 South 300 East, South Salt Lake
View Images
Give Butter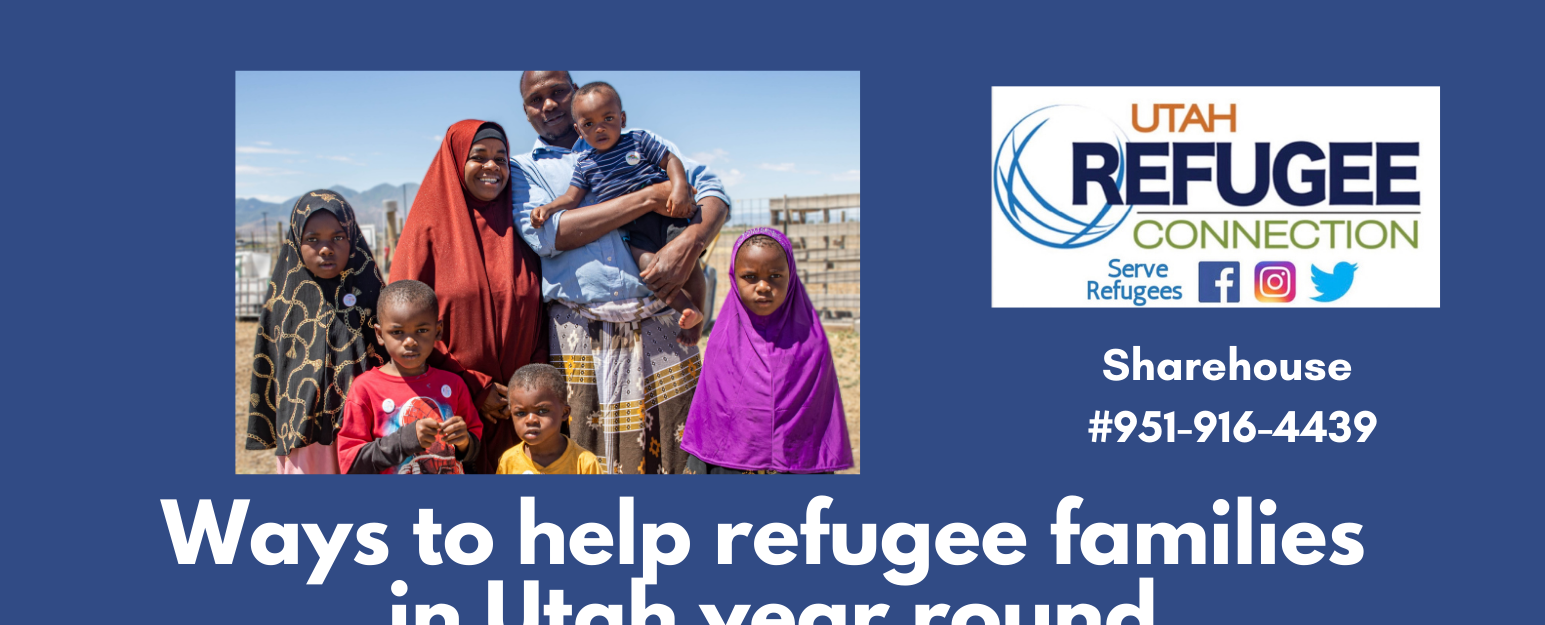 Year Round Needs PDF
This is a printable PDF that has our year round needs. There are always certain items in demand that many refugees can use.
Download Printable List

Home Kit
Support refugee families in staying healthy and safe by donating this all new family kit.

Kit Contents:
Two Sponges
Dish Soap 10-14 oz
Laundry detergent (65 oz.)
All Purpose Cleaner
4 Rolls of Toilet Paper
Pump hand soap


Place all items in a STURDY reusable bag.
Delivery Location
View Images

Personal Kits
Help refugees by donating essentials for daily life.

Kit Contents:
Small razor pack
Liquid laundry detergent (65 Oz.)
4 or 6 pack of toilet paper
Deodorant
Bar of Soap
2 toothbrushes and 2 tubes of toothpaste
1 or 2 washclothes

Place all items in a new reusable bag. PLEASE ONLY INCLUDE THE LISTED ITEMS.
Delivery Location
View Images

Teen Kit
These kits are used as incentive items for teen refugees that we serve. They include the following items:

Bar Soap
Toothbrush
Toothpaste
Lotion
Shampoo
Conditioner
Lotion
Razor
View Images

Gas, Grocery, and UTA Gift Cards
Give grocery, gas, or UTA gift cards to a refugee family so they can buy various necessary items. Mail all gift cards to the mailing address below:

Utah Refugee Connection
C/O Amy Dott Harmer
6440 South Wasatch Blvd. Suite 100
Salt Lake City, UT 84121

Do not deliver to the Sharehouse

Diapers
Donate diapers in all sizes to support refugee families in need. This is great to pair with a baby wipes donation. This is a great community project or Eagle Scout project! We can only accept disposable diapers and they must be in the original, unopened packaging.

Size 4-7 are highly needed.

Deliver to the sharehouse or send them through our Amazon registry, see the links below!
Delivery Location
Donate Now

Laundry Detergent
Refugee families are often large and that means a lot of laundry each week! Support these families by donating 100-120 ounce bottles of liquid laundry detergent. We often go through 300-400 of these a week. Refugees who go to workshops benefit from these donations.
Delivery Location
View Images
Donate Now

Givebutter Donation (connect your Venmo)
Donate to our general Givebutter link. This is a quick way to make a huge difference.

Givebutter is compatible with credit cards, Venmo, and PayPal.

These funds will go to helping fill a variety of Refugee needs and are always greatly appreciated.
Donate

Used Computers
"You can teach a person to fish, but they also need a fishing pole."
Tech Charities is a local company that refurbishes laptop and desktop computers and donates them to refugee families. Donated computers must operate with the Windows 10 operating system and require a processor that is i5 or better with at least 4 G RAM.
Call 801-540-6902
Download Printable List
Website Link

Amazon Registry
Browse our registry to see the miscellaneous items our organization needs.
Donate Now
Donate

Make A Donation
If you'd like to make a monetary donation, use the link below.
Donate
Monetary Donations

One Time Donations
Any donation amount makes a difference.

Subscribe: Make a Monthly Donation
Subscribe: Make an Annual Donation

Facebook Birthday Pledge
You can "donate" your birthday to Utah Refugee Connection on Facebook. This feature will automatically ask your friends to make a donation in your honor. Find us by searching for "The Utah Refugee Connection".
Make a Pledge

Amazon Smile Donations
When you set up an Amazon Smile account, Amazon will donate 0.5% of your purchases to Utah Refugee Connection. Download the file below for step by step instructions on signing up.
Download File
Sign Up
---