Please take ALL USED CLOTHING AND SHOES to Deseret Industries. Deseret Industries supports refugees through education, employment, and clothing vouchers.
WE CANNOT PROCESS USED CLOTHING OR SHOES!
Donate $10 to fund sweatshirts for the educational Refugee Youth Conference: http://paypal.me/UtahRefugee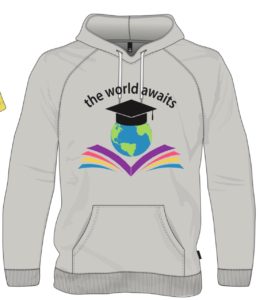 The following ITEMS are needed for children and families:
CLEANING KIT: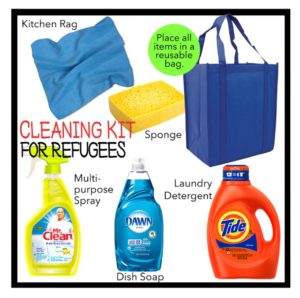 Please put the following items in a new reusable bag. ALL ITEMS MUST BE NEW AND UNOPENED
Laundry detergent
Dish soap (not clear, please use colored soap)
Sponge
Kitchen rag
Multipurpose spray
Reusable Bag
Important Note: Please only include the items listed above. Adding, varying or changing kits makes distribution difficult. If you have questions regarding this email info@serverefugees.org
ALWAYS NEEDED:
Baby Supplies
–          Diapers (sizes 5 and 6 most needed at this time)
–          Baby shampoo and lotion
–          NEW car seats (We are unable to accept used car seats)
_______________________________________________________________
The following Food Kits can be taken to the Granite Education Foundation at 2500 S State Street (north west entrance near the flag pole). The Granite Education Foundation serves countless refugee kids AND other children in need. Please note that these food kits may be given to any family in need.
DOWNLOADABLE FLYER: GEF Food Kits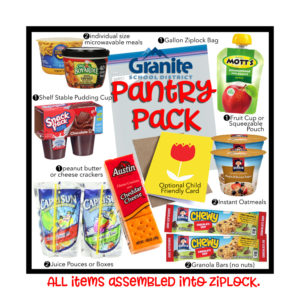 Pantry Pack includes: 1 gallon zip lock bag, 2 individual size microwaveable meals (Easy Mac, Ravioli, Spaghetti & Meatballs), 1 fruit cup/squeeze pouch or applesauce, 1 shelf stable pudding cup, 2 juice boxes or pouches, 2 instant oatmeal, 1 individual sized peanut butter crackers or cheese crackers, 2 granola bars (no peanuts), and an optional child friendly card. *PLEASE TAKE THESE KITS DIRECTLY TO THE GRANITE EDUCATION FOUNDATION (instead of the Serve Refugees Sharehouse). Call to schedule a drop off between Monday- Thursday 9 am to 4 pm 385-646-4483.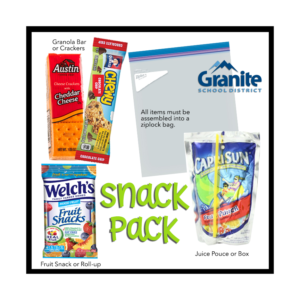 A Snack pack is given to hungry students by teachers, administrators and social workers. Snack packs are always in high demand and usually include a granola bar or crackers, a juice box or pouch and another small snack; such as fruit snacks that are packaged in to a zip lock bag.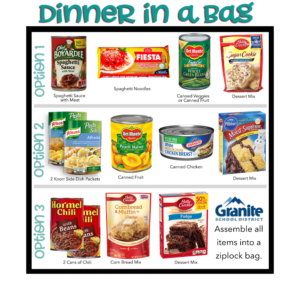 Spaghetti sauce (with meat), spaghetti noodles, canned veggie/fruit and a desert mix. Two Knorr side dish packets, canned chicken, canned fruit and a desert mix. 2 large cans of chili, a packet of corn bread and a desert mix.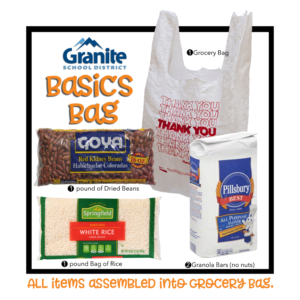 Many of the families we serve are not familiar with canned food items. GEF endeavors to provide items that these families are accustomed to such as flour, rice and dry beans. These items can be packaged together in a standard plastic grocery bag and are ready to hand to families in need. A Basics Bag includes a 2 pound bag of flour, 1 pound bag of dry beans and 1 pound bag of rice. These essentials are in high demand and are difficult for the Foundation to keep in supply.
_________________________________________________________________
Click on the Amazon Icon below to be taken to our registry.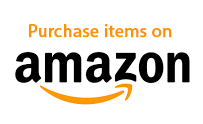 THE DROP OFF LOCATION HAS BEEN MOVED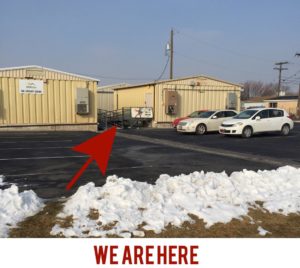 SERVE REFUGEES DONATIONS SHARE HOUSE
(Collaboration between the Utah Refugee Connection and Granite School District)
Temporary Location – Relocatable Building North Side of Faculty Parking Lot:
LINCOLN ELEMENTARY SCHOOL
3700 SOUTH 450 EAST, SALT LAKE CITY
MONDAY AND WEDNESDAY FROM 10:30 AM TO 3:00 PM
*Utah County Liaison: Megan Shaw – megs.shaw84@gmail.com
*Davis County Liaison: Kylee North – kyleenorth@gmail.com
*Liaisons are only able to facilitate donations listed on this website!
All other questions: Call/Text (801) 871-5903
Please note that donation space is NOT inside the school. Look for "Serve Refugees" signs outside of the relocatable building. Please call if you have difficulty finding us.
CLOSED:  September 4th, 2017, November 22nd, 2017, December 22nd, 2017- January 2nd, 2018.
---
UTA BUS PASSES
Women of World (womenofworld.org)
Please drop Monday – Thursday from 11 am – 5 pm
3347 South Main Street
Salt Lake City, Utah 84106
---
Please take ALL USED CLOTHING AND SHOES to Deseret Industries. Deseret Industries supports refugees through education, employment, and clothing vouchers.
WE CANNOT PROCESS USED CLOTHING OR SHOES!
Click here to download this printable brochure:  Serve Refugees brochure
Donated goods are welcomed by contacting: